Air Compressor – CompTech
Air Compressor – CompTech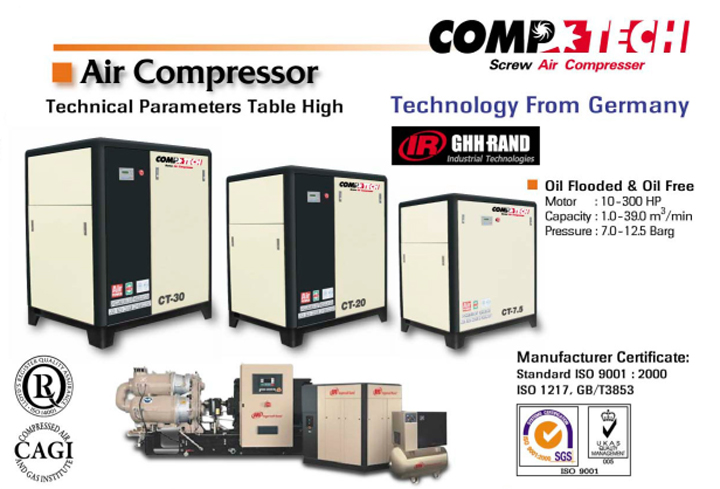 COMPTECH Germany Technology
Air Compressor Germany. GHH-RAND experience in the compressor air business dated back to 1905 of screw air compressor and covers reciprocating, centrifugal, vane and the highly popular rotary screw compressor. The industrial technical development of reciprocating compressors and turbo machinery compressors led to the development of oil-free rotary screw compressors in Oberhausen in 1954. Later developed oil-injected rotary screw airends in the 1960's to meet customer market needs.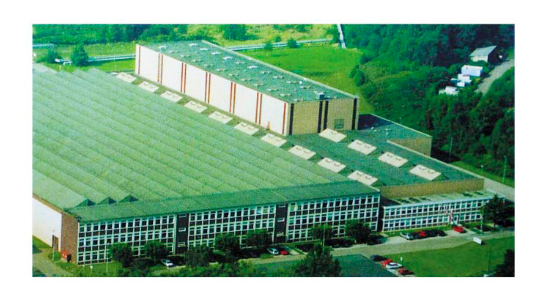 This is the premise of our Germany airend supplier focus to ensure quality in every detall and motivates to give the best in all areas. The standard strives for " Zero defects" requirements in every respect. Our inspection equipment, used for in-process quality control, is of high-precision and calibration intervals are monitored regularly by means of computers. Through use of the latest coordinated measuring techniques, We guarantee a consistently high quality products.
COMPTECH associated with Germany technology developed the state-of-art screw air compressor, all COMPTECH compressor are equipped with the optimized, energy-saving GHH screw airend. Which is operated in its most efficient specific performance band.
Purchase price and service expenses amount a Minor part of a compressor's life cycle costs. By far the major part of a screw compressor's Overall costs due for electricity with power Adding up to a multiple of the compressor's Purchase price during its operational life. The energy saving COMPTECH screw compressor Help user to significantly curb the energy costs.
screw air compressor

Features :– Excellent Compressor Stage
– Excellent Controller Panel
– Excellent Control Valve
– Excellent Electrical Controller
– Excellent Electrical Motor
– Excellent Filtration
– Excellent Driving Transmission
– Excellent Cooling System
– After Service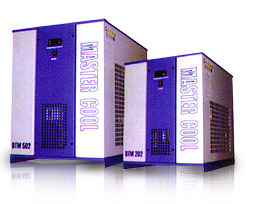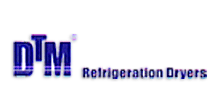 Compressed Air Dryers
เครื่องทำลมแห้ง ( Air Dryers ) เทคโนโลยีจากประเทศอิตาลี เพรสเชอร์ ดิวพอทย์ที่ 3 °C สามารถรองรับอณุหภูมิลมเข้าได้สูงถึง 80 °C รองรับปั้มลมได้ตั้งแต่ 1-500 แรงม้า
ส่วนประกอบที่สำคัญ :
Heat Exchanger & Evaporator Unit
ผลิตจากทองแดง (สแตนเลสในรุ่นพิเศษ) สามารถถ่ายเทความร้อนได้ดี และในกรณีรั่วสามารถซ่อมได้แตกต่างจาก อลูมิเนียมที่ไม่สามารถซ่อมได้
Refrigerant Compressor
ใช้ยี่ห้อ Panasonic ทนทาน กินไฟน้อย เสียงเงียบ
Solenoid By-Pass Valve
ใช้ยี่ห้อ Danfoss ในกรณีที่ลมผ่านน้อย Dew Point ต่ำกว่า 1 C By-Pass Valve จะเปิดให้ด้าน High Pressure เข้าไปในชุด Evaporator เพื่อป้องกันไม่ให้ภายในชุด Evaporator เป็นน้ำแข็งซึ้งเป็นสาเหตุหลักที่ทำให้ลมไม่ผ่าน Air Dryer
High & Low Pressure Switch
ใช้ยี่ห้อ Danfoss ช่วยป้องกัน Compressor ในกรณีที่น้ำยาขาด Low Pressure Switch จะตัดการทำงานของ Compressor ทันที และ High Pressure Switch จะตัดการทำงาน ของเครื่องในกรณีที่แรงดันน้ำยาสูง ช่วยป้องกันไม่ให้จุดเชื่อมต่อต่างๆของระบบน้ำยารั่วซึม